garage door repair Palm Desert ca
We'll FIX, service or install Your garage door Quick & 100% Hassle-Free!
The Desert's #1  Garage Door Specialist with 20+ Years Experience
GET HELP FROM MASTER GARAGE DOORS TODAY!
FREE Estimate $20 off New Installs

Best Affordable Garage Door Service Palm Desert CA
We are a family-owned and operated shop proudly serving the Coachella Valley for over 25 years.
We have a crew of licensed technicians always available for timely and cost-effective repairs.
The components of your garage needs to to be taken care of. You might not be aware, but it's a workhorse that does it's job – it goes up and down to close, then click down and up without fail day in and day out. In most cases, it does its job thousands of times per year without hearing a single click of complaint. Because of this, and the verity that a garage door is extremely heavy, wear and tear is inevitable. It's only a matter of time before your beloved garage needs maintenance service. At first, you can go the DIY route but if you want to save on maintenance costs in the long term, as well as save yourself from the hassle of doing all the grunt work, you can get the services of the California garage door company you can trust – Master Door.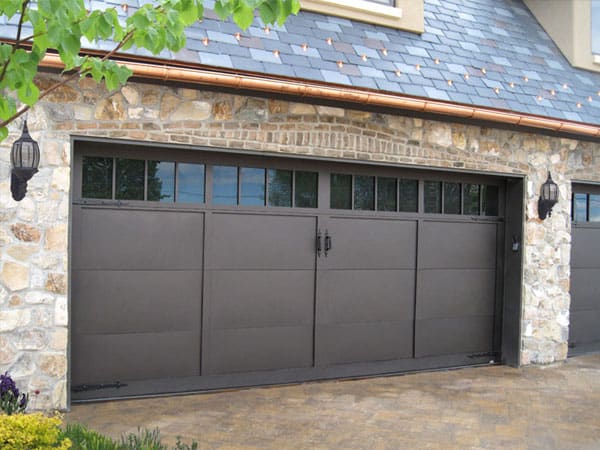 Door Install & Replacement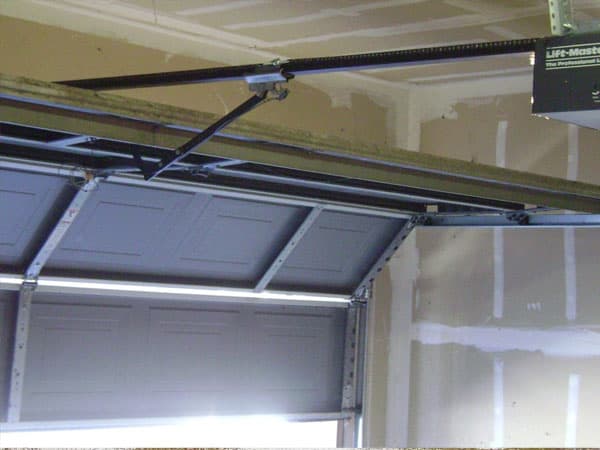 Automatic Opener Installation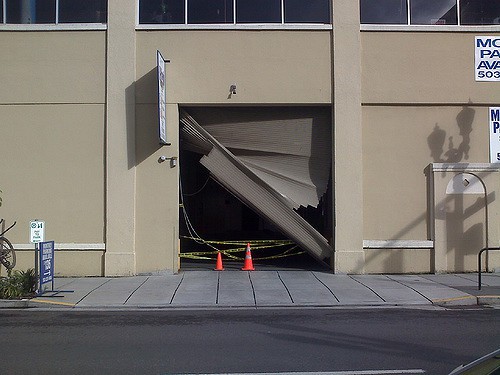 Why Hire A Local Garage Door Repair & Maintenance Service
The sheer number of DIY Youtube videos about garage door maintenance, repair, and installation can give people the impression that it's ridiculously easy, and something that the average person in your area can do. What most people don't realize is that the videos are usually done by seasoned professionals who have done the project over and over for years. Thinking that one can do it as well, without any practice and without a decent background in the field, can be a costly mistake. You are not going to save money or time. It's actually the opposite to what you see in youtube reviews – you'll end up spending more on the wrong materials, and later down the line, need to spend more on costly repairs as the components eventually break down sooner than it should.
Professional garage door installers have extensive training, and years of experience in doing the job correctly, safely, and within a strict budget and schedule in any local area we service. The reviews we get in the area can show this. They know garage door repair and installation service while making sure it is safe both during the work, and later one when the garage door is in use by the owners. For example, the parts themselves are large, heavy, and awkward to install if there's only one person involved. Not only that, but the replacement or installation and maintenance will sometimes involve working with electricity and a properly grounded power outlet. Professionals like us have electrical wiring experience and the know-how needed to test every aspect of the garage door service to ensure that it's working properly, safely, and with not require a replacement for a long time.
What You Get with a Professional Working on Your Garage
Use of the right parts and tools – as any DIYer knows based on reviews in the local area, a project can sometimes lead to multiple trips to the local hardware or home improvement stores, just to get different parts and tools that they need. Most garage doors kit seem to include everything you should need, but something unanticipated usually comes up and will require yet another trip to the store. Professional garage door companies will have staff that are ready to provide service and already come fully equipped, and will know the right parts for your garage door. This ensures that it will function properly and will be perfectly suited for your specific garage door model. This also ensures that they do the job properly the first time around.
Safety – as mentioned multiple times above, installing, repairing, and maintaining garage door repair can be dangerous due to how heavy the materials are and sometimes because of the electrical wiring involved. Don't put yourself at risk, when professionals in the California area are around and already know how to do everything safely. Professional garage door installers in the area are also insured, so in the event of any incidents resulting from the work, you will not be held liable.
Warranty – most garage components come with a warranty. But you should check out the fine print – many service provided warranties are void if you attempt to install the door on your own or get replacement as a DIY project. These area garages usually require you to hire a professional for service, in order for the warranty to remain valid. It is also worth noting that professional area garage door repair companies like Master Door will stand by our work and offer additional guarantees on the work we have done in your area. Just check out all the reviews we get online, and you'll see the proof. The positive garage doors service reviews in the coachella and nearby area are enough indication of how safe working with us can be.
Fill Out the Form Below For Your Free Estimate
Servicing the Entire Coachella Valley!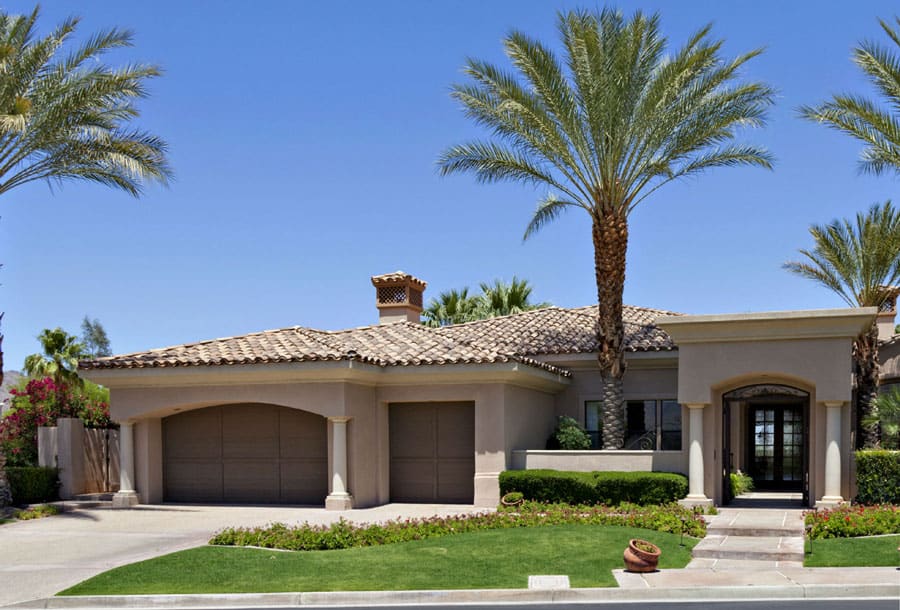 Overhead Door Installation, Repair & Replacement
We can deal with any garage door issue. We handle Replacement, Repair, Broken Spring Replacement,  Off Track Repair, Automatic Opener Installation & Repair, Tune Up, Water Seal & Moulding Replacement, Electric Driveway Gate Service, and other related services needed in the Palm Desert CA area. We offer garage door repair services in Bermuda Dunes as well.
Garage doors are very heavy. They can weigh anywhere from 150 to 450 lbs. Add the fact that hardware can deteriorate over time, and you have a recipe for home accidents in homes that have older unmaintained garages. This is what makes Master Overhead Door's service provided needed in so many area homes. There are many homeowners who go through their aging garages every day not knowing the danger.
There is a huge difference that can be easily seen between a safe door and one that's unsafe. And ignoring the problem is not only a physical danger, but a potential financial problem as well. Getting area professionals like Master Overhead Door will ensure that you keep your garage door in tip top shape, while saving on long-term repair costs on the service provided because we will do the job properly, using the right tools, the right materials, and the proper techniques. Don't take our word for it, you can check out what our satisfied clients have to say with their reviews of the service provided by our company.
Garage Door Emergency Repair
WE SERVICE ALL OF THE POPULAR INDIO COMMUNITIES
What Our Client Reviews Say
"I am a General Contractor located in Palm Desert and I have Juan and his guys service my garage as well as all of my clients. They are always fair priced and definitely reliable. He has done everything from servicing garage parts, to replacing the motors and installing new garages. I previously had old beat up, uninsulated doors and no weather stripping. Juan came in and ripped out the old parts, installed weatherstripping and installed nice contemporary doors that were insulated. That was a couple years ago and the still look and work fabulously. Thanks for the great service provided for me and my clients over and over again!!!!" They deserve all the positive reviews they get in the area.
"I'll add another one of the positive reviews they are already getting. I've used Master Overhead Door for the last 5 years. When I lived within The Citrus Country Club in Palm Desert, I called them to program my openers and set-up the HomeLink buttons in both my cars. I've routinely had them perform routine maintenance and repairs on my older openers, so they will work the best way possible, given their age. Now that I just moved to Rancho Mirage, I'm calling them yet again to continue the great and flawless service. I've NEVER had them miss an appointment, show up late in the area or fail to call me, when promised.
Fill Out the Form Below For Your Free Service Estimate